A Charley Harper 100th Birthday Year Celebration Exhibition
ABOUT CHARLEY HARPER
Charley Harper (August 4, 1922 – June 10, 2007) was a Cincinnati-based American Modernist artist. He was best known for his highly stylized wildlife prints, posters, and book illustrations. Born Charles Burton Harper in Frenchton, West Virginia in 1922, Harper's upbringing on his family farm influenced his work to his last days. He left his farm home to study art at the Art Academy of Cincinnati, and won the academy's first Stephen H. Wilder Traveling Scholarship. Also during his time at the Academy, and supposedly on the first day, Charley met fellow artist Edie Mckee, whom he married shortly after graduation in 1947.
Charley and Edie spent their honeymoon traveling the country, mainly in the west and south, being able to do so because of the Stephen H. Wilder Scholarship the Academy awarded to Charley for post-graduate travels. Charley Harper returned to the Art Academy of Cincinnati as a teacher and also worked for a commercial firm before working on his own. He and his wife worked out of their Roselawn and Finneytown homes, and later, with their only child Brett Harper, formed Harper Studios.
During his career, Charley Harper illustrated numerous books, notably The Golden Book of Biology, magazines such as Ford Times, as well as many prints, posters, and other works. As his subjects are mainly natural, with birds prominently featured, Charley often created works for many nature-based organizations, among them the National Park Service, Cincinnati Zoo, Cincinnati Nature Center, Cornell Lab of Ornithology,[2] Hamilton County (Ohio) Park District, and Hawk Mountain Sanctuary in Pennsylvania. He also designed interpretive displays for Everglades National Park.
Charley Harper died in Cincinnati on Sunday, June 10, 2007, at age 84 after contending with pneumonia for some months.
EXHIBITION INFORMATION (Oct. 7-Nov. 27)
The exhibition is FREE and open to the public during center operating hours. The exhibit includes over 80 lithographs, serigraphs, gliclees, posters and gliclee canvas wall murals on display and for sale. Issue dates on this selection of Charley Harper artwork includes 1968-2020. Although BIRDS are the focus subject for the exhibition, Harper's cats, ladybugs, spiders and chimps are also on display.
Avoid shipping costs and purchase your Charley Harper art and merchandise at the Grange Insurance Audubon Center. If you are interested in purchasing a large wall mural that is not on display, please ask us.
Purchase any framed piece of artwork and receive a FREE Charley Harper print.
Choose from the following prints while supplies last:
"Cardinal Cornucopia"
"Family Circle"
"Chorus Line"
GIFT SHOP INFORMATION (Oct. 7-Dec. 31)
Visit the Charley Harper Gift Shop during center operating hours. The gift shop is a temporary, seasonal shop. The shop accepts major credit cards only and all sales are FINAL. We are unable to accept cash or any other form of payment at this time. Visit the shop early for the best selection of the following merchandise:
Mugs
T-Shirts (limited sizes)
Park Posters (small & large)
Coaster Sets (with and without stand)
Puzzles
Games, Stickers, Activity Books, Adult Coloring Book
Stationary
Ornaments
2023 Audubon Calendars
Contact Sandy Libertini for more information on Art at Audubon.
Art at Audubon Opportunities
Artist-in-Residence Program
Provides artists with a space to work and engage with local communities to create art, develop work in progress and inspire a connection between art, science and the natural world.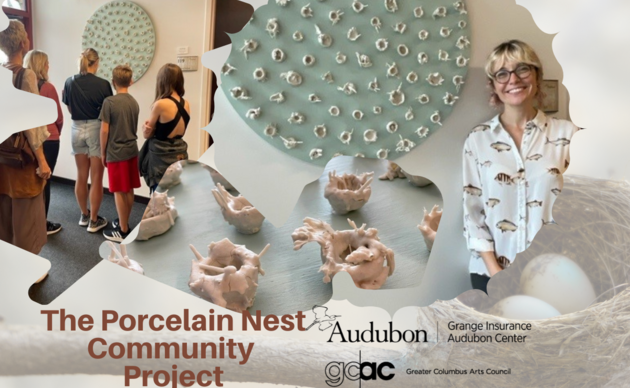 Art Exhibitions
An opportunity for artists of all levels, backgrounds and mediums to display and sell their work. Artists considering a solo show should expect to hang 40-60 pieces of work.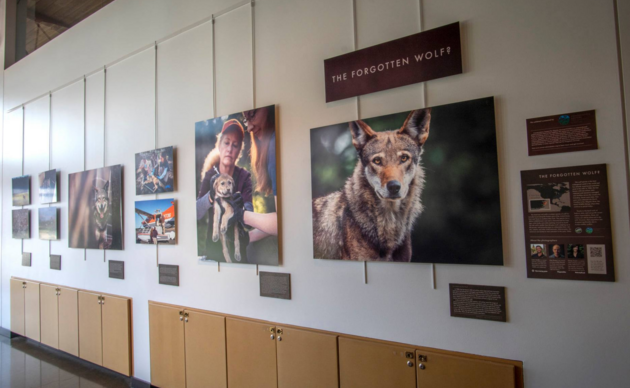 Sponsor Art At Audubon
Help support local artists and commmunity art projects that support our mission to inspire conservation action through the arts.