THREE EXHIBITIONS....IN ONE PLACE!
NEW EXHIBITION TREE TIME + SILOS BY AMANDA LOVE
Tree Time is a photographic documentation of the prehistoric and endangered species, The Metasequoia (or Dawn Redwoods). Artist Amanda Love began taking photographs in the fall of 2019; today Amanda has documented over 540 separate visits to this conservation site located at the Dawes Arboretum in Newark, Ohio. The installation calls to mind changes that happen over time as individual photos taken over three years in different weather, light, wind, and precipitation conditions, to create one large symphony of trees.
The Dawn Redwood was thought to be extinct until 1940, when it was re-discovered in central China. The species was on the edge of extinction due to genetic bottlenecking, their isolation having weakened them near the point of collapse.
"When I thnk about that in relation to human life - we too suffer when isolated - I see clear paralles. These last pandemic years have clearly illustrated the crucial importance of community, engagement and diversity to our well being. In the images, you see a genetically diverse plantation of the Metasequoia. They are reaching out, connecting, just like us humans."
-Amanda Love
Silos is an outdoor installation also inspired by the prehistoric Metasequoia (Dawn Redwwod) species. Visitors can view and walk inside a sample of these large fabric silos located inside the Center. The full outdoor installtion is planned for Fall 2023 located within the natural prairie landscapes surrounding the Center.
TREEWHISPERS BY PAMELA PAULSRUD
Treewhispers is an ongoing international collaboration of handmade paper and artistice exploration honoring trees. It provides a space for papermaking, performance, forested storytelling, and site-specific intallation. The online Treewhispers portal serves as an alternate forum for sharing stories and global interconnectivity.
Treewhispers was founded in the year 2000 by artists Pamela Paulsrud and the late Marilyn Sward. Since its inception, this project has offered papermaking opportunities in community-based settings. it has been presented in a multitude of venues, bringing together handmade rounds of paper from participants around the world.
On these rounds of paper, contributors remember trees and tree spirits. Some are magnificent specimens of beautiful handmade paper; others house text and imagery. Suggestions of tree rings, depictions of leaves, illustrations of a personally significant tree. Yet others might become imprinted with a poem or meaningful story about trees. The handmade paper rounds are bound together with bookbinding thread in columns ranging in length from 3 to 12 feet in height which can be linked together as large tree assemblages. Together in mass, they describe a forest of hanging paper rounds: an ever-changing installation. Artwork from thousands of participants has been exhibited at colleges, museums, libraries, botanic gardens, nature centers and art galleries. Works by professional artists are displayed side by side with class projects by elementary school students.
Anyone and everyone can take part in this multi-faceted project of handmade paper, creative process and storytelling. Spirited collaboration becomes the groundwork for a flourish of growth in many realms and directions—taking root in a handmade paper round. Visitors to the installation are invited to stroll through the forest to explore the handmade paper, poetry, stories, and art dedicated to trees.
PAMELA PAULSRUD
Pamela's exploration of energy and vibration, letters and lines, her love of the land, the earth and its resonance, inspries both her work and her life. Her research and practice in energetic healing modalities simultaneously inform her art. Pamela is a visual artist recognized internationally as a papermaker, calligrapher, book artist and collaborator creating both intimate pieces and large-scale installations. She teaches workshops in papermaking, markmaking, lettering, and book arts. Her work is included in numerous private and public collections and has been published in many magazines, books, and journals. Images and descriptions of her work can be seen here.
IT SOUNDS LIKE LOVE BY CADINE NAVARRO
ENJOY THE SPACE WITH A SELF-IMMERSION AUDIO
Click HERE to begin your meditation session (Please use your ear buds for this self-guided session, others may also be using the art space).
It Sounds Like Love offers a place of encounter with native, Ohio prairie seeds. Nestledin a prairie at the Grange Insurance Audubon Center, Milkweed, Wild Begamot, Big Blue Stem, Echinacea, and Switch Grass present an offering.
You activate the work-you are invited to remove your shoes, enter the space, and walk on the artwork-etched glass images produced by the sound vibrations of the unsprouted seeds. Entering calls us to connect with our sense perceptions, to fee, to smell, to listen, and to be absorbed into direct experience.
The exhibition's materiality of glass panels nestled among traditional Japanese mats made of rice straw and soft rush grass (tatami) interweaves an autobiography. Born and raised in Japan for 17 years, Navarro traces her maternal lineage to Ohio, her grandmother's professional associations with glass art, and her interests in language and forms of communication woven into her multicultural journey. Each inique, primoridal pattern created by sound is made visible through her innovative, contemporary interpretation of a traditional Japanese art.
It Sound Like Love is a veritable act of reciprocity and a response to the siloing and damage we have done to our land. It is an offering that encourages us to listen deeply as we walk among the seeds' messages that enshrine us, the intelligence of our more-than-human companions. If we linger long enough, these seeds teach us man things about ourselves.
Contact Sandy Libertini for more information on Art at Audubon.
Art at Audubon Opportunities
Artist-in-Residence Program
Provides artists with a space to work, engage with local communities, develop work in progress and inspire a connection between art and the natural world. Click HERE for the application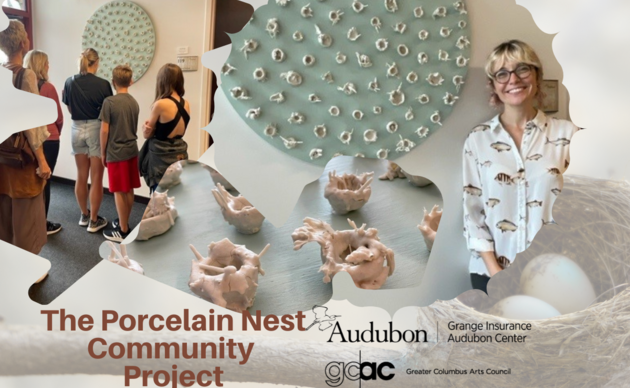 Art Exhibitions
An opportunity for artists of all levels, backgrounds and mediums to display and sell their work. Artists considering a solo show should expect to hang 40-60 pieces of work.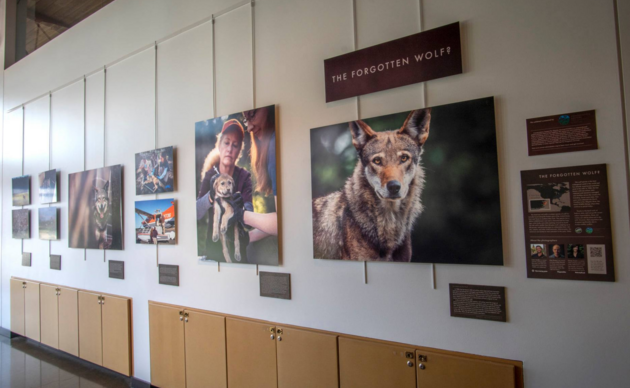 Abstract Art Perspectives of North American Birds
Join us for a series of painting workshops with artist Mah Leah Cochran.
Click HERE for information, workshop dates, and registration.