Birding
Birds in Focus at Migration Mania
Presented by Audubon, Canon Cameras and Midwest Photo Exchange
Sunday, September 22, 2019
7:00am - 3:00pm Columbus, Ohio
Location Details
505 W. Whittier St., Columbus, 43215
Have questions or need more information, please contact Michael Goldman at mgoldman@audubon.org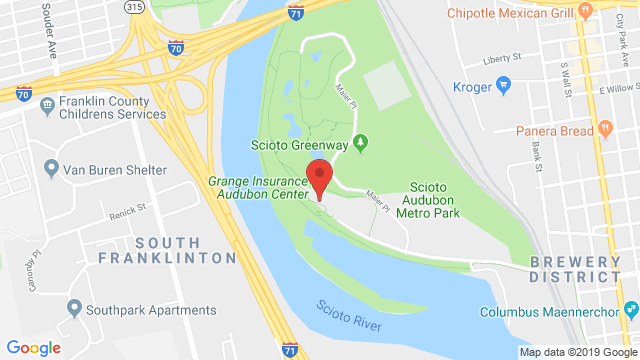 Join Audubon, Canon Cameras and Midwest Photo Exchange at the Grange Insurance Audubon Center, September 21st 7am - 3pm and September, 22nd 7am - 2pm, for a unique event that brings birds and photography together in a whole new way.
Throughout the weekend, celebrate nature with lively bird walks, festival fun, and a display of winning photographs from the 2019 Audubon Photography Awards. Experience an extraordinary opportunity to learn about nature and wildlife photography and try out a variety of specialty Canon cameras and lenses (included with registered bird walks)!
Register for Birds in Focus, guided bird walks (fee) led by Audubon bird experts and Canon photography pros as you try out the latest and greatest cameras, lenses and binoculars available. Learn tips and tricks from Midwest Photo Exchange experts while you get up close and personal with a spectacular array of birds. Don't miss the special "Grosbeaks and Gravestones" walks (fee) through Greenlawn Cemetery, highlighting the natural habitat and history of Columbus. All bird walks are 45 minutes.
During Migration Mania, you'll have the chance to see a variety of migrating birds in the "warbler capital of the world." Plus, get inspired by the 2019 Audubon Photography Awards display, hear from Ohio State Photography Lecturer and National Geographic Study Expeditions Leader Leonardo Carrizo (fee), see Ohio Nature Education's live birds of prey demonstration, sharpen your observation skills to solve a nature mystery with an Aldo Leopold demonstration by Susan Setterlin and try your new camera skills on some raptors mid-flight from Ohio School of Falconry (fee)!
Bird Walk Schedule Saturday and Sunday (fee) - all bird walks begin at the center (participants will caravan to Greenlawn for the Grosbeaks and Gravestones walks) - 7:30 am, 8 am, 8:30 am Grosbeaks and Gravestones at Greenlawn, 10 am, 10:30 am, 11 am
Other Events:
8 am - noon Ohio Nature Education's Live Birds
9:30 am - 11:30 am Aldo Leopold Observation Skills Demo and Chance to Solve a Mystery with Susan Setterlin - Saturday only!
2:00 pm - Leonardo Carrizo, Wildlife Photography Talk and Live Bird Demo (fee) - Saturday only!
2:30 pm - Falconry Photography with Ohio School of Falconry (fee)
To RSVP and Register for the event (including free admission and all free activities) Click Here!
To register for birding walks & checking out photography equipment, falconry photography sessions and our keynote wildlife photography talk with Leonardo Carrizo Click Here!
Have questions or interested in more information? Please contact Michael Goldman at mgoldman@audubon.org
About the Audubon Center - Celebrating ten years of operation, Grange Insurance Audubon Center showcases the passion and drive of a truly environmental city. Located within the 140 acre Scioto Audubon Metro Park, Grange Audubon brings nature to Columbus' backyard. The only urban Audubon center within the Great Lakes area, Grange Audubon also plays host to many of the city's nature- and outdoor-loving individuals each day. At its core, the mission of the center is to set alight the passion of Columbus for the natural world, a mission joyfully carried out through youth education, adult programming, conservation and demonstration of native habitat for the benefit of birds and all life.